>> Wednesday, January 31, 2007
Rosie from What's the recipe today Jim? is hosting this month Jihva for Ingredients with the theme of GINGER, which she described as "hot, spicy and incredibly versatile". For this event, I am going to submit those little

Ginger Coconut Cakes

.
I initially thought that my cakes should be featured in the last edition of JFI when the theme was coconut. In fact, the original recipe entitled Coco Au Miel (Coconut Honey Cake) from this beautiful book did not even contain ginger at all. But having made the cakes a number of times, I felt that a touch of ginger would work beautifully here.

And it did turned out well. The warming aroma matched perfectly with the rich and creamy flavour of coconut. The ginger was not overwhelming but just enough to add a mysterious note. The cake was better eating warm since the ginger fragrance came out more.
Next time I may try cardamom after seeing Gattina's incredible Coconut & cardamom candy (Burfi)!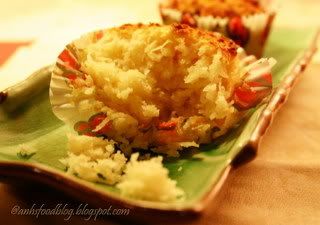 Recipe adapted from Paris Boulangerie-Patisserie: Recipes from Thirteen Outstanding French Bakeries
Ingredients (for 10 muffin-size cakes)
310 ml milk
1¼ tsp honey
230g shredded coconut
110g sugar
70g plain flour
2 tsp baking powder
2 tsps or more of ground ginger
2 large eggs, well beaten
Method
Preheat oven to 200C. Line 10 muffin tins with paper cups.

In a heavy saucepan, bring the milk and honey to a boil then remove from the heat.

In a mixing bowl. Combine coconut, sugar, flour, ground ginger and baking powder. Slowly add the milk mixture and stir until smooth.

Stir in eggs until well combined (the mixture is quite liquid)

Pour the mixture into paper cups, filling them nearly full

Bake for about 25-30 mins or until a toothpick inserted in the center comes out clean.

Cool on a wire rack. Serve warm.
Tag:
recipes
food blog
food and drink