Melbourne is famous for its unpredictable weather. Having lived here for a few years now, I can´t agree more. After 2 weeks or so of high temperature, the weather has cooled down over the last few days. At the certain moments, it actually feels like winter or autumn. I won´t complain about the cooler weather though. In fact I love it since I can take a break from the salad season and indulge myself in warm comfort food.
Getting into action, I cooked up my favourite winter dish – Chickpea and Lamb Stew. This is my adaptation from the traditional North African soup called Harira. The combination of chickpea, lamb and warming spices provides a satisfying and comfortable stew. Serve it with some crusty bread just out of the oven and I will be happy…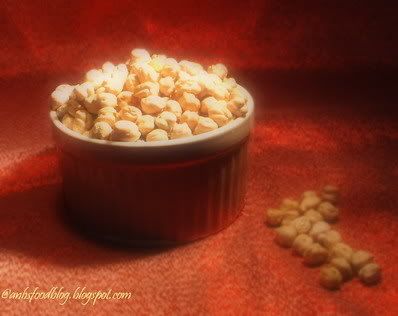 Although the stew uses varieties of herbs and spices, I would love to feature about chickpeas (or garbanzo as called in the US) for this edition of Weekend Herb Blogging. They have a beautiful nutty flavour and a crisp texture. The beans are high fibre and protein. Highly nutritious, chickpeas are also low in fat and most of their fat content is monounsaturated. Chickpeas are used widely in different cuisines. Personally I love them especially in hummus and falafel… Truly wish I could have some now!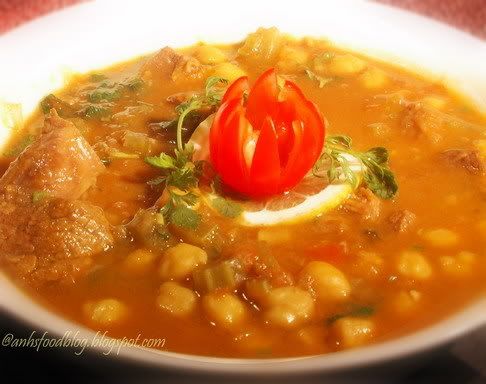 Chickpea and Lamb Stew
Recipe adapted from Harira recipe from the Australian Women Weekly.
Ingredients (serves 6-8)
200g dried chickpeas
Olive oil
2 medium onions, finely chopped
2 trimmed celery stalk, sliced
2 cloves of garlic, crushed
4 cm piece fresh ginger, crushed
1 tsp ground cinnamon
½ tsp ground black pepper
Pinch of saffron thread
500g diced lamb
3 large tomatoes, seeded then chopped coarsely
4 – 5 cups of water, or as needed
½ cup firmly packed fresh coriander leaves
2 tablespoons fresh lemon juice
Method
Soak chickpea in water overnight. Drain, rinse under cold water then drain again.

Heat olive oil in a sauce pan, cook onions, celery, and garlic until onion softens. Add ginger, cinnamon, pepper and saffron. Stirring for 2 mins or until fragrant. Add lamb, stir until lamb is browned (about 5 mins)

Add chickpea and tomato; cook for about 5 mins or until tomato softens.

Add water, bring to the boil then reduce heat. Cover the pot and simmer for 1-1.5 hours or until the chickpea and lamb soften. Add more water is needed.

Stir in coriander and lemon juice. Serve with crusty breads if desired.
***
This week WHB comes to beautiful Melbourne and is hosted by Tomato, a blog I truly appreciated. Please check his blog out for the round-up of WHB. And if you are a bit more adventurous do take a look at Ed´s beautiful posts about his recent trip to Cambodia. They are truly amazing!
Tag:
recipes
food blog
food and drink
Cooking
Weekend Herb Blogging
stew
lamb
chickpea
garbanzo