>> Monday, February 05, 2007
Pizza with no cheese!
Pizza dough made from yoghurt!
Pizza has mince lamb!
& it is deliciously good!!!!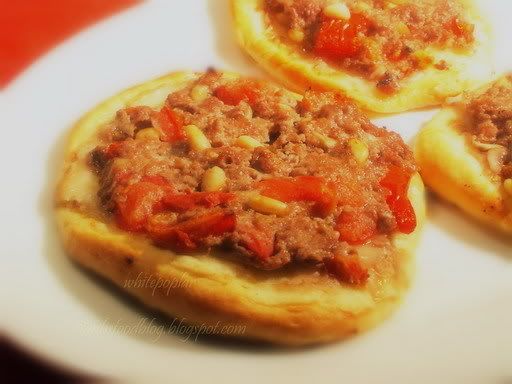 Yes, I am talking about the recipe from Claudia Roden's excellent book Arabesque. Ever since I picked it up at the bookshop before Christmas, I have used a lot of recipes from it and never disappointed. Claudia's recipe is simple, detailed and very reliable. I truly think Arabesque is a good buy among a lot of "less useful" things I bought over Christmas and New Year…
Back to the lamb pizza… Although the topping was made from lamb, it was not too meaty thanks to the beautiful tomatoes, herbs and spices. The pomegranate syrup was a perfect touch, proving a natural sweet and sour taste which I totally adore. I wish I could fly to the Middle East right now to savour those pizzas!
The pizza is pretty simple to make. The dough was probably one of the easiest to handle since it was non-stick. The use of yoghurt also gave the dough a light texture. In other words, an interesting change from the ever popular Italian pizza.
Oh yes, the pizza can be shaped smaller for starter or cocktail party. I, however, chose to make medium size to satisfy the pizza "monsters" at my place (by the way I am not included here!). And if you love something spicy, add a bit of chili for an extra zing.
And a final thing, after eating anything meaty, I normally go for something minty. Mint aids digestion and helps to remove the meaty taste. Go for things like mint tea or mint food salad. I usually blend watermelon with some mint leaves and ice cubes. which is truly nice and refreshing!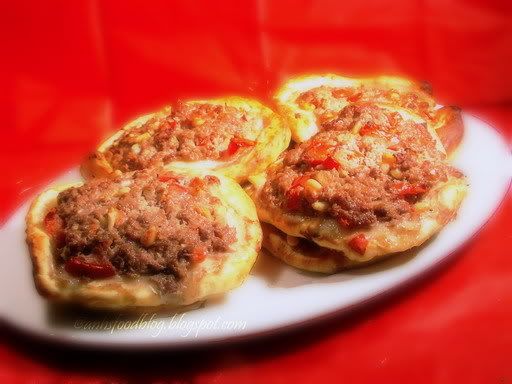 Middle Eastern Lamb Pizza
Recipe adapted from Arabesque
Ingredients (for 20 small or 12-14 medium size pizza)
The dough
About 250g warm yoghurt (put the yoghurt tube in a pot warm water for 1 hour)
2 tsp dried yeast
Pinch of sugar
50ml warm water
500g strong white bread flour
1 tsp salt
4 tablespoons extra virgin olive oil
Meat and tomato topping
1 large onion
600g minced lamb (not too lean otherwise it will be too dry)
3 large garlic cloves, crushed
½ tsp allspice
Salt and black pepper
2 tablespoons of pomegranate molasses
500g vine-ripen tomatoes, chopped finely
50g pine nuts
Chili flakes (optional), to taste
Method
Dissolve yeast with warm water and little sugar. Leave aside until it froths.

In large bowl, mix flour with salt and oil. Add in the east mixture and just enough yoghurt to make the dough forms a ball. Knead for 10 mins, or until the dough is smooth and elastic.

Add a drop of oil to the bowl and roll the dough around to grease it all over to prevent a dry skin from forming.

Cover and leave in warm place for 1½ hours or until doubled in size.

Meanwhile, prepare the filling: finely chop the onion in a food processor and drain of the juices. Put the meat, onion, garlic, allspice, salt, pepper and pomegranate molasses into a bowl. Mix well and work with your hand into a soft paste. The work in the tomato, chili and pine nuts.

Punch down the risen dough, knead around 1 minute. Take a lump size of dough (walnut size for small pizza, egg size for medium), roll thinly into rounds. Place in oily sheets of foil on baking trays.

Take lumps of topping mixture and spread thickly over the dough, Go right up to the edge as the topping tends to shrink while the dough expands while baked.

Bake one tray at a time on a preheated oven 200C/400F for 15 mins.

Serve hot.
***
I am submitting this entry to Weekend Cookbook Challenge is #13, the theme is to cook from a newly acquired book/magazine/whatever. The event is hosted by Sara of
I like to cook
.
recipes
food blog
food and drink
Middle Eastern Cuisine