The gorgeous Ilva of Lucullian Delights is hosting a wonderful new event – The Heart of the Matter, Eating Healthy for Life. The aim is to share favourite healthy & tasty recipes. The event will also help us to eat better and healthier. Please check out Ilva´s blog for more information.
When it comes to healthy food, I take great comfort in Japanese Cuisine. Sushi is always my first choice for a quick lunch. Or if I have more time, udon, ramen or some soba salad will be perfect. Japanese food is one of my weaknesses, but a healthy one I suppose. One of my favourite Japanese ingredients is miso. Made primarily from fermented soy bean, miso can vary in taste depending on other added ingredients like barley or rice. Generally, the paler colour indicates milder flavour. This soybean paste is most famous for miso soup, but it is also used for sauces, marinade, spread etc.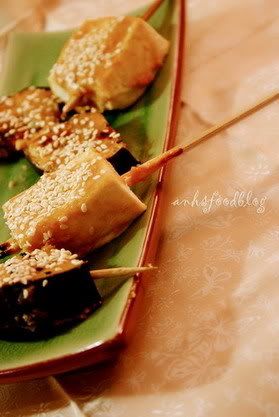 Today I decided to use miso in one of my favourite grilled tofu dish. As the theme of the current "The Heart of Matter" is Finger Food, I twisted the recipe a little, grilling tofu on skewers. Eggplant is also used to offer another variety. The result is Miso Tofu & Eggplant Skewers, something definitely suitable to serve as finger food. The dish is also healthy yet delicious with the use of miso, tahini, sesame, tofu and eggplant. It is also suitable for vegetarians. If you want meat, simply substitute tofu with sime skinless chicken breast. I think it should work perfectly.
SESAME MISO TOFU & EGGPLANT SKEWERS
Ingredients (for 15-20 skewers)
1 large eggplant
600g firm tofu
Roasted Sesame Oil
Skewers, soaked in water for at least 30´
Sesame seeds, to sprinkle
Miso Sauce (*)
½ cup (150g) shiro miso (white miso)
2 tsp sugar
2 tablespoons mirin
80ml dashi (Japanese fish broth – I used the instant one. Can substitute with veggie stock for a complete vegetarian option)
2 tablespoons tahini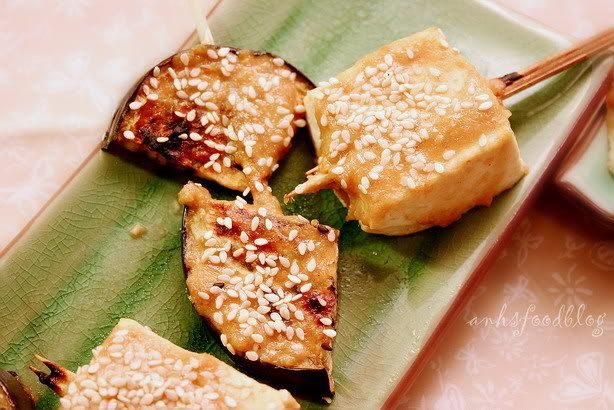 Method
Cut eggplant to slices of 1.5 cm thickness. Soak in salt water for 30´ then pat dry with paper towel.
Press tofu with a weight on top – Make sure all the water is drained out. Pat dry and cut into 2cm cubes.
Combine the miso sauce ingredients in a sauce pan, bring to the boil and whisk to combine. Set aside.
Thread eggplant and tofu onto skewers. To support the tofu, you may want to use two skewers for each tofu piece.
Place eggplant skewers on a baking tray. Brush with sesame oil. Grill (Broil) for 10-15 mins or until cooked.
On a separate tray, prepare tofu skewers in the same manner. However, only grill for 3-5 mins or until slightly golden.
Spread the miso mixture onto the eggplant & tofu skewers. Sprinkle with sesame seeds. Cook under hot grill for another 3-4 mins or until brown slightly.
Let the tofu skewer rest for 3-4 mins before serving.
Note
# Miso can vary in taste so adjust your sugar accordingly.
# Tahini is the sesame paste, which can be found in the health food section of supermarket
# I actually doubled the amount of miso topping indicated and had a lot of leftover. Thus, the amount here should be appropriate for 1 eggplant and 1 box of firm tofu.