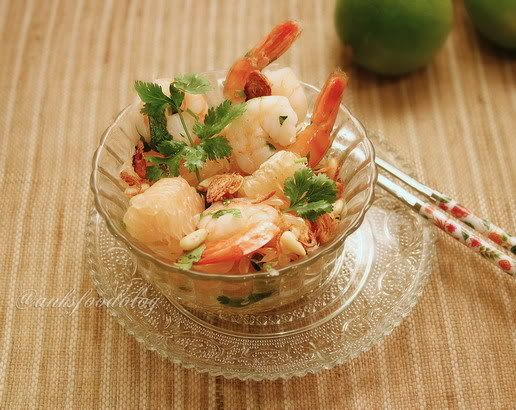 Growing up in a tropical country, I was surrounded with a lot of lovely fruits from my grandfather´s garden. My grandfather, back to the time when his health was better, used to do a lot of gardening. His old house, about 25km north of Hanoi, had front and back gardens. The front garden was full of lovely flowers and bonsai trees. And the back garden was a heaven of tropical fruits – banana, guava, longan, oranges, pomelo, star fruits, custard apples and a lot more. Every summer during my schooldays, I used to stay with my grandparents and stuffed myself with fruits, fruits and more fruits. We used to have so much that my grandmother had to sell some in the local market…
I remember my grandparents had two or three big pomelo trees. Two trees gave the normal white flesh. The other one gave fruits with pink flesh which had incredible taste, juicy and lightly tart. It was so good, I couldn´t forget the taste! Some of you might not have pomelo before. Here is some information. Pomelo belongs to the citrus family, and it is very similar to grapefruit. It is, however, sweeter and normally less juicy. Native to Southeast Asia, pomelo is also the largest citrus fruit. The normal fruit easily weigh 1-2 kilos, and sometimes can be bigger.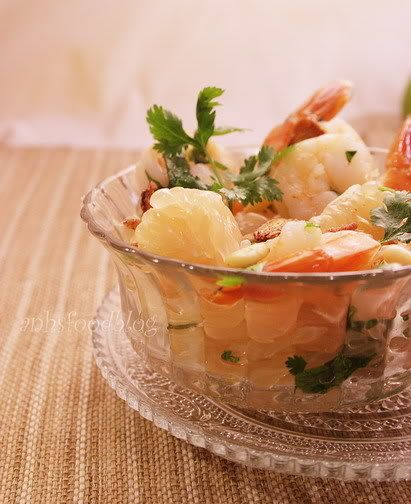 Pomelo is loved throughout Asia. It can be eaten fresh, put in salad or dessert. The skin contains aromatic citrus oil and is often extracted to produce mali (or pomelo) essence. This essence is used widely in my home country to flavour sweet pudding. On top of that, the oil is used in the production of soap & shampoo since pomelo extract is well known for cleansing effects.
At this time of the year, some Asian groceries in Melbourne carry pomelo. I bought some, but was not very impressed with the taste. The ones here are not as juicy and sweet as those in Asia. In fact, they have a rather bland taste. To finish it up, I made a very simple pomelo and prawn salad. Flavoured with sweet and sour dressing, the pomelo salad tasted quite nice. But if the actual fruit was of better quality, it would be splendid. Note that a more glorious version of pomelo salad is very popular in Southeast Asia.
Sorry I don´t have an extract recipe for this Pomelo & Prawn Salad. But it was very simple. The dressing was made of lime juice, sugar and a bit of fish sauce. The herbs used were coriander, Vietnamese mint (laksa leaves). I garnished the salad with fried shallot flakes and toasted pine nuts (peanuts are more traditional).
This post is my entry for Weekend Herb Blogging. Founded by Kalyn, WHB is going strong every week with lots of herbs and delicious food. This week, it is hosted by Anna of Morsels & Musings. Head to her blog for a fantastic round up later!