>> Friday, March 23, 2007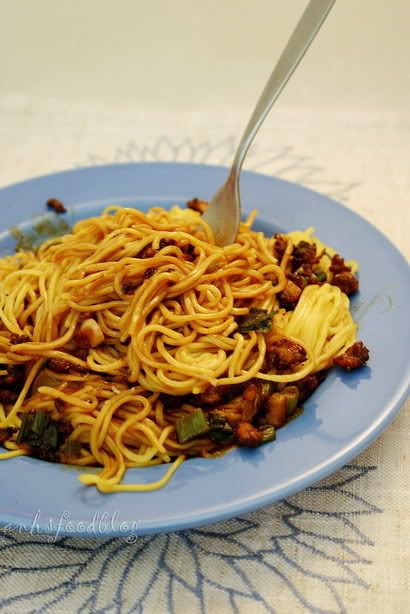 Although the Melbourne Food and Wine Festival is on, I chose not to attend it but spent money & time on my other obsession – music. Last Tuesday I attended an awesome live performance by Augie March, who in my opinion is the best Australian band at the moment. I love everything about Augie March's music, the diversity in their style and very beautiful lyrics. Listen to this awesome song, and you will understand why I love them. My next "concert" will be in August, not another rock concert but something I have long to see for all of my life. I will disclose the secret later when the time comes. :P
Back to the foodie business, this entry is about an irresistible noodle dish originated from Sichuan, China. According to Ken Home's The Taste of China, this dish is now popular across China and there are a lot of versions available. It is typically sold in street "restaurants" and food stall. I don't know if you agree but street food is not only cheap but exceptionally delicious! I have a particular liking for street food. Like most of school kids, I used to know all good street food stalls around Hanoi. When traveling to other Asian countries, the food I remembered the most was from the small street shops not big restaurants. Who can resist street food? Not me anyway.
The noodle dish featured is very easy to make, as long as you have the right ingredients. You may need to find Chinese sesame paste (from Sichuan if possible), but this can be substituted easily with tahini paste. The essential ingredient, which gives the noodle the pungent flavour is Sichuan Peppercorns. My friend once told me that these peppercorns are banned in the US. I am not sure if it is still the case? If not, smuggling some may be the option if you are really obsessed (*). And if you are lucky to find some, please take the effort to roast and pound them yourself. Don't buy the powder form, which does not have the real lasting spicy taste.
(*): After this entry was posted, Lydia has kindly advised me that Sichuan Peppercorns are now available in the US, subjecting for some strict rules. For more information on how to buy them in the US, please visir her post here.

SICHUAN SPICY NOODLES
Adapted from recipe by Ken Hom
Ingredients (Serves 3-4)
225g chicken/pork mince
1 tbsp dark soy sauce
1 tsp salt
Oil, about 4 tbsp
3 tbsp finely chopped garlic
2 tbsp finely chopped ginger
5 tbsp finely chopped spring onions (scallions)
2 tbsp sesame paste, or tahini paste or at the last resort, peanut butter
2 tbsp datk soy sauce
2 tbsp chili oil
2 tsp salt
225 ml chicken stock (more if needed)
350g Chinese thin fresh egg noodles or dried egg noodles, prepared as per package directions. Keep warm.
1 tbsp Sichuan peppercorns, roasted and ground
Method
Combine mince, soy sauce, salt in a small bowl. Mix well. Heat the wok until hot. Pour in the oil, wait until it is hot then fry the mea, stir using a spatula to break down into pieces. When the meat is crispy (about 4 mins), remove from the pan with a slotted spoons and drain on kitchen paper.
Pour of the oil, leaving about 1-2 tbsp. Reheat then add garlic, ginger and onions. Stir-fry for 30 sec. Then add sesame paste (or tahini/peanut butter), soy sauce, chili oil, salt and chicken stock. Simmer for 4 mins.
Divide the warm noodles among heated plates. Laddle on the sauce, garnish with the fried meat and roasted peppercorns.
****
This is my entry for Presto Pasta Night hosted by Ruth of Once upon a Feast. Please check her blog for the round up.
Tag:
Food Blogging Event
Presto Pasta Night
noodle
noodles