>> Friday, March 30, 2007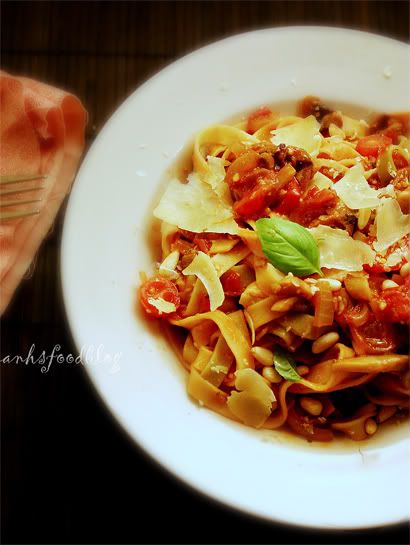 Today is Friday, and I am so glad the weekend is coming up. For the whole week, I have been trying to resolve some nonsense problems caused by the lengthy administration procedure. I am totally fed up with the whole thing, but it has finally been resolved. Now it is the time for me to relax and enjoy some good food! Like usual, whenever feeling uneasy or exhausted, I opt for vegetarian dishes as food remedy. Everyone knows vegetables are good and healthy, and I have had real craving for them lately.
And last night I got what I wanted – a delicious vegetarian pasta dish. Pairing the earthy flavor of mushrooms with the sweetness of tomatoes, the pasta is surprisingly beautiful. I also love the crunchy bite of pine nuts and the lovely aroma of thyme. This recipe is a keeper, and I will definitely make it again.
Pasta with mushrooms, pine nuts, tomato and thyme
Adapted from Jason Viola's recipe, appeared in Australian Gourmet Traveller April 2007.
Ingredients (serve 4)
400g fresh or dried fettuccine or tagliatelle
2 tbsp of extra virgin olive oil
25g dried porcini mushrooms
40g fresh mushrooms, sliced
2 cloves garlic, finely chopped
125ml white wine
1 tsp finely chopped long red chili
1 tsp of dried thyme
A handful of grape or cherry tomatoes, roughly chopped
20g – 30g pine nuts, roasted
Parmesan, to serve
Basil or fresh thyme to garnish
Sauce
Olive oil
½ onion, chopped
400gm canned cherry tomatoes, puréed
Salt, sugar and pepper to taste
Method
Make the sauce first. Fry onion with olive oil over medium heat until soft. Add tomatoes and cook for 10 mins or until sauce is thickened. Season to taste with salt, sugar and pepper.

Soak the porcini mushrooms with 1 cup of hot water for 15 mins. Squeeze out the excess water from the mushrooms, coarsely chopped. Reserve the soaking liquid.

Heat oil, add garlic & thyme and cook until soft. Add chilli, mushrooms and cook for 3 mins. Add wine, reserved mushroom liquid and the tomato sauce. Simmer until the sauce thickens.

Meanwhile, cook the pasta as per package direction. I used fresh pasta, which took 3-4 mins to cook.

Add the chopped grape tomatoes to the sauce and heat through. Toss the pasta with the sauce. Sprinkle with toasted pine nuts and shaved parmesan. Serve immediately.



***
This dish is my entry to Presto Pasta Night, hosted by Ruth of Once Upon a Feast. Please hop over to her blog for the round up.