>> Friday, April 20, 2007
I occasionally bake breads when time permits. But looking back, whole-wheat breads have never in my to-do-list. But things changed when I picked up the excellent book The Village Baker. Reading the book from cover to cover, I decide to try out different types of flours and techniques. The first bread I chose is very simple whole-wheat loaf that we now see.
This bread turns out lovely although I know my techniques must be improved greatly. I don't remember enjoying any whole-wheat loaf this much. It has an enjoyable depth of flavor. And knowing that it is healthy is another bonus. The loaf makes great toast, with a generous amount of good butter and some not-too-sweet jam. Oh, don't forget the vegiemite if you are in Australia! That's all I need for a good breakfast to start my day.
I am currently very interested in bread-making, so don't be surprised if bread is something you see more often here :D.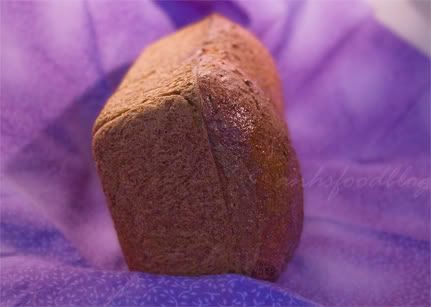 Whole-wheat Bread
Recipe from The Village Baker
Ingredients (enough for 1 loaf measured 9x5 inch)
The sponge
1 tablespoon active dried yeast
1 cup warm water
¼ cup honey
1/6 cup corn oil
½ tablespoon powder milk
1 cup whole-wheat (whole-meal) flour
The dough
All sponge form the previous step
½ tablespoon salt
½ cup water * - please pay attention in the recipe
2 cups whole-wheat (whole-meal) flour
Glaze (optional) 1 whole egg whisked with 3 tablespoons of cold milk
Method
To make the sponge: Proof the yeast with 1 cup of warm water. When it is creamy, add the rest of the water, honey and oil. Combine milk powder with the flour then add slowly to the yeast mixture, mixing with a wooden spoon. Mix for a few mins until everything is well incorporated. Cover; let it rise until triples in volume, about 2 hours (depending on temperature).
To make the dough: Stir down the starter and sprinkle salt on top of it. Stir the water into the sponge (use cold water if the sponge is warm in summer; use warm water if the sponge is cold in winter). Add handfuls of flour until the dough comes together, reverse a few handful for kneading.
Knead the dough for 5-8 mins, using the rest of the flour to prevent it from sticking.
Let the dough rise, cover, in a bowl until doubled in size.
Take the dough out, punch back and flatten it. Fold it over onto itself, square the edge by pushing the dough an inch or so into the middle. Roll the dough up into a tight log, sealing each turn with the heel of your hand.
Place the loaf into the greased pan and let rise for another 30-40 mins.
Glaze the loaf then baked in the preheated oven 425F for 45-50 mins. Cool on the wire rack.