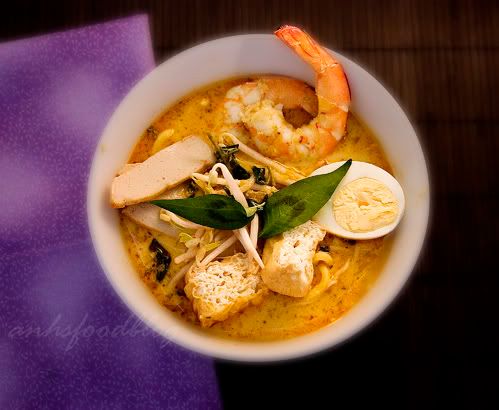 I have an ultimate weakness to noodle soup. Back in my childhood, I could eat noodle soup for all meals of the day and even snack. That habit changes a bit now because there are no street food stalls (hawkers) around. But if I have a chance to visit an Asian country, I will definitely stuff myself with noodles!
My choice for noodle soup of course is bias towards Southeast Asian & Chinese cuisines. After successfully create pho, my most-loved dish, I determine to try on cooking laksa from scratch. Laksa is a wonderful dish. It has everything I love about Southeast Asian cuisine – hot, spicy, creamy and extremely fragrant. It is nice to see how Australian cuisine has embraced laksa (and pho as well). A lot of my friends would hunt down for a nice bowl of that spicy and "coconuty" noodle soup. Who can really resist its charm anyway?
My first ever attempt to cook laksa from scratch was really smooth. After all, the most important thing is to make a good spice paste. I have a pantry full of Asian ingredients so it is quite easy. And the beauty of making my own paste is the freedom to choose and adjust different ingredients to my liking. I let my imagination fly and came up with a few combinations which I would try gradually. So if laksa appears again on some fine days, you will know why.
My first laksa was made based on Charmaine Solomon´s recipe. Her recipes are excellent foundation to anyone who loves Asian food. And this laksa is no exception.
A small note about spiciness. The paste I made turned out quite mild, and I ended up using ground chili paste to spice it up. Next time I would double the amount of chili. But if you just have a start on making laksa, keep the indicated amount and adjust later. I can tolerate spicy food quite a bit but cannot compete with my Singaporean or Malaysian friends. The spiciness level was adjusted to their liking, and gosh it was spicy! I was sweating all over when eating that laksa. But well, laksa is not laksa if it is not spicy!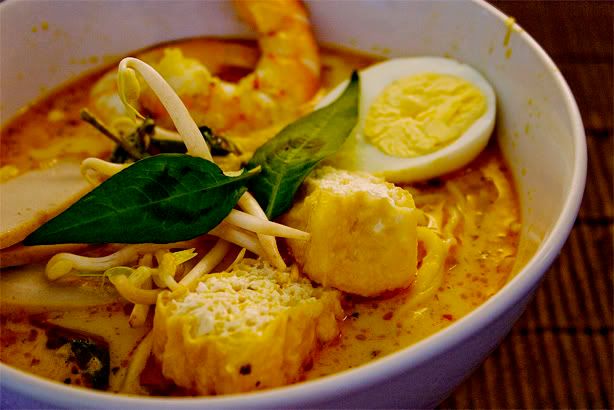 Singaporean-Inspired Laksa
Based on Charmaine Solomon´s recipe
Ingredients (to serve 4-5)
500g fresh king prawns
Oil (don´t use olive oil)
2 liters (8 cups) water
2 tsp salt
300g noodles (I used the combination of hokien noodles and rice vermicelli, but choose only vermicelli if you wish)
400ml coconut milk
Small bunch of laksa leaves (Vietnamese mint)
2 fresh lime leaves
8 squared deep-fried bean curds (available from Asian stores)
1 block of fried fish cake, sliced (available from Asian stores)
150g bean sprouts, trimmed and rinsed
3 hard-boiled eggs, halved
Laksa Paste
6 dried bird-eye chili – soaked with hot water until soft
2 small bird-eye chili
10 purple shallots, peeled
5 clove garlic, peeled and crushed
5 candle nuts, roughly chopped (can be substituted with macadamia)
2 stems of lemongrass, thinly sliced (white part only)
3 tablespoons dried shrimps – soaked with hot water until soft
2 tablespoons chopped fresh galangal (or used the one in brine)
1 teaspoon belacan (Malaysian Shrimp Paste)
1 handful of coriander roots, cleaned
1 tsp ground turmeric
A generous pinch of coriander powder
Method
Stock

: Shell the prawns, leave the tail on. Stir-fry the heads & shells with 1 tbp oil until pink. Add the water, some salt and bring to the boil. Simmer for 20 mins. Strain the stocks and discard the shells & heads.

Paste

: Put all ingredients in a food processor and puree. Add oil as needed to facilitate the process.

Heat 3 tbsp oil in a large saucepan/wok, fry the paste, stirring constantly. When the oil separates from the mass, add the strained prawn stock. Simmer for 20 mins.

Prepare the noodles according to package direction.

Bring the soup to simmering point. Add coconut milk & lime leaves, lower the heat and simmer gently. Stir in the prawn meat. When the prawns turn pink, remove with a slotted spoon and keep warm.

Keep the stock simmering; prepare the noodle in serving bowls. Warm the noodles & the bowl up by pour some hot stock into the bowl, then, carefully return the stock into the pan. Bring to simmer point again. Check seasoning.

Garnish each bowl with shredded laksa leaves, bean sprout, eggs, prawns and fried bean curds. Ladle the hot stock over. Serve immediately with some extra chili sauce on the side if desired.
***
This dish is my entry to Presto Pasta Night, hosted by Ruth of Once Upon a Feast. Please hop over to her blog for the round up on Friday.