…and I haven´t been 100% for the last few days. Sneezing, headache and a sore throat, it feels like the dreary winter has arrived. And the work that I am doing, writing up a literature review, seems endless at the moment.
But at least, I have a crumble pie (and some chocolate) to comfort me. Best of all, it is a plum pie! I love stoned fruits – plums, nectarines, apricots and peaches. As summer has left, their season is coming to an end soon. Being greedy, I am trying to enjoy their presence as much as possible. I have made some lovely peach jam that will last me through winter. And since my plums aren´t very sweet, they go into the crumble pie I have been talking about. (Nectarine and apricots are my top favorites, so they never last for more than 3 days).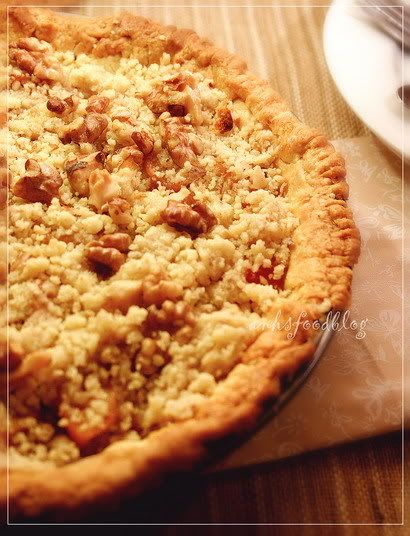 I don´t know what I love most about this pie – the flaky crust, the rich nutty crumble or the tangy moist plums. The flavors just melt together in my mouth. And the hint of cinnamon & nutmeg keeps me warm. Total comfort, that´s how I describe it.
The recipe below is adapted from Apple Crumble Pie recipe by Rose Levy Beranbaum. The addition of peach jam sweetens and moistens the plums a little. My home-made jam isn´t too sweet, so the end result tastes just right for me. But I do have a sweet tooth at the moment (I blame it on the weather), so you may want to omit the jam altogether.
This is my entry for Weekend Herb Blogging, an event created by Kalyn, which I am hosting this week. Please send your entry to anhnguyen118 at gmail dot com by Easter Monday April 7 to participate.
Plum Crumble Pie
This pie requires long hours of chilling. Do read the recipe carefully and plan your schedule accordingly.
Ingredients
1 quantity flaky cream cheese pie crust
½ large egg white, lightly beaten
1kg plum, peeled, cored and sliced to ¼ inch thick
1 tbsp freshly squeezed lemon juice
1/3 cup light brown sugar
¼ cup castor (granulated) sugar
½ tsp ground cinnamon
¼ tsp freshly grated nutmeg
¼ tsp salt
28g unsalted butter
2 tsp cornstarch
Streusel Topping
1 1/2 tbsp light brown sugar
1 tbsp castor (granulated) sugar
1/3 cup walnut/pecan
1/3 cup plain flour
42gr unsalted butter, melted
½ tsp vanilla extract
Pinch of salt
Optional: peach jam dissolved with a little hot water
Method
Remove the dough from the fridge. Let sit for 10 mins. Roll out the pastry to 1/8 inch thick. Transfer to the greased pie pan. Remove excess and crimp the border using a fork. Cover loosely and refrigerate for min of 1 hour and max of 24 hours.

Preheat oven to 425F (220C). Line pastry with parchment, fill it with rice/dried bean. Bake for 20 mins. Lift the rice/bean out. Prick the pastry line with a fork. Bake for 5-10 mins or until the crust is pale golden. **The crust browns very quickly so please keep an eye on it***

Cool the crust for 3 mins. Brush the bottom and side with egg white.

Filling

: in a large bowl, combine plum, lemon juice, sugar, cinnamon, nutmeg, salt & toss to mix. Allow the mixture to macerate for min of 30´ of max of 3 hours at room temp. Transfer the plums and their juices to a colander suspended over a bowl to capture the liquid.

Boil down the liquid with butter in a small pan over medium high heat. Do not stir but gently swirl the liquid. Boil until the liquid turns syrupy and caramelized.

Toss plums with corn starch. Pour hot syrup over it and toss gently.

Preheat the oven to 425F (220C). Set an oven rack at the lowest level and place a baking stone/baking sheet on it before preheating. Place a large piece of foil on top to catch juices.

Transfer the fruit mixture to the pie shell. Cover the pie with foil. Cut 3 steam vents in the foil.

Set the pie directly on the foil-topped baking stone. Bake for 1 hour.

Prepare the streusel topping: Process all the ingredients in food processor until coarse and crumbly.

Remove the pie from the oven and discard the foil on top. Lower the temperature to 400F (180C). If you like, brush the plum with peach jam dissolved with hot water. Sprinkle the streusel on top. Add some whole walnut pieces for decoration (optional).

Place a ring of foil over the edges of the pie

to prevent them from over-browning. Bake for another 15-20 mins until the plum is tender and the streusel is golden brown. Cool on rack. Serve warm or at room temperature.