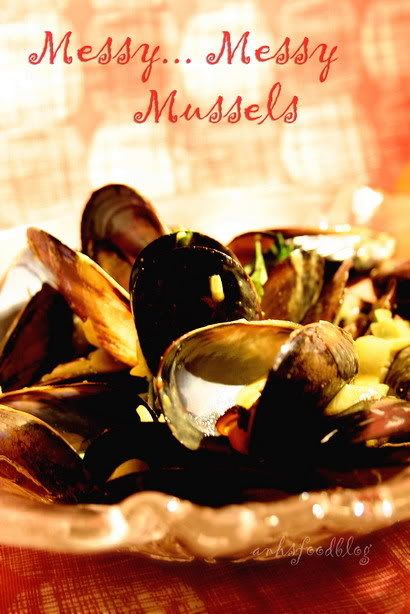 My dad loves seafood, and so do I. Back in Vietnam (my family lives in Hanoi still), we eat seafood every second day. Dad is very good at choosing seafood and he established very good relationship with some fishmongers. Thus, we always have the best fresh ingredient available, which is superb.
Coming to Australia, I eat less seafood. I know its price in Australia is not too bad compared to other parts of the world, but the timing issue is a problem. I like my seafood to be fresh and cooked on the day of purchase. It is not easy since I have to travel quite a bit to get the freshest ingredients. So for me now, seafood dishes are like occasional treats where I can thoroughly enjoy.
Good seafood dish depends largely on the quality of the ingredients. I can´t agree more! Last weekend, the fresh local blue mussels give me total satisfaction although the method of cooking is very simple. Sorry, my quick photo shots did not do this dish the justice. It was really delicious with crème fraîche, spices, white wine and simple herbs. Served with crusty bread, it was heavenly. My flamate and I just couldn´t stop savoring and wished we could have dishes like this every day.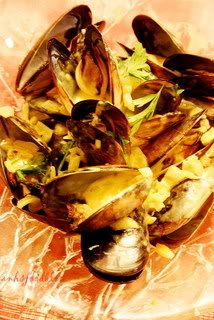 La Mouclade
Recipe from Rick Stein´s Seafood Odyssey
Ingredients
A good pinch of saffron
1.75 kg mussels, cleaned
120 ml dry white wine
25g butter
1 small onion, finely diced
2 garlic cloves, finely chopped
½ tsp good quality medium curry powder
2 tbsp cognac
2 tsp plain flour
200ml crème fraîche
3 tbsp shopped parsley
Salt and freshly cracked black pepper
Method
Put the saffron in a bowl and moisten it with 1 tbsp of warm water. Place the mussels and wine in a large pan, cover and cook over high heat for 2-3 mins, shaking the pan now and then, until the mussels have opened. Tip them into a colander set over a bowl to catch all the cooking liquid and discard any that haven´t opened. Transfer the mussels to a large serving bowl. Keep warm.
Melt butter in a pan, add onion, garlic, curry powder and cook gently without browning for 2-3 mins. Add cognac and cook until almost all evaporated, then stir in the flour and cook for 1 min. Gradually stir in the saffron liquid and all but the last tablespoon or two of the mussel cooking liquid.
Bring the sauce to a simmer and cook for 2-3 mins. Add the cream and simmer for another 3 mins, until slightly reduced. Season to taste, stir in the parsley and then pour the sauce over the mussels. Stir them together gently.
Serve immediately with plenty of crusty bread.