>> Friday, April 27, 2007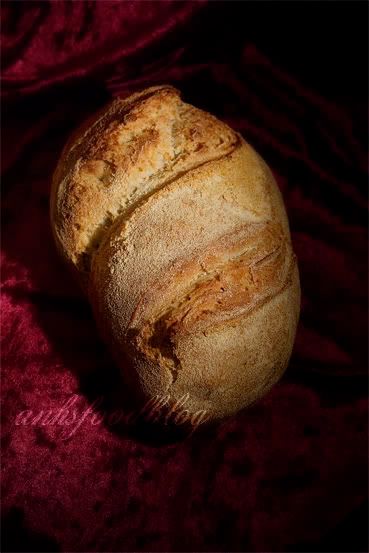 I know my first ever sourdough bread does have a funny shape. One part of the bread was puffed up during the baking process, most likely because my oven was too hot. But I am still very happy with the end result. After a week of nervously making my own leaven, finally I managed to make it! I am excited with crust and crumb! I wish the holes in my bread distributed a bit more evenly and my slashing skill was better… But hopefully with more practice I can achieve that one day.
This bread has everything I love about sourdough. If you like the Asian cottony soft white bread, this is not for you. This loaf is dense and rustic. With the combination of leaven, three different types of flours and a slow, very slow fermentation, the result is an earthy, nutty and sour flavor from the crust to the crumb… Dipping it in the best extra virgin olive oil you can lay your hand on and the taste is just brilliant. Nothing beats freshly baked bread, don't you agree?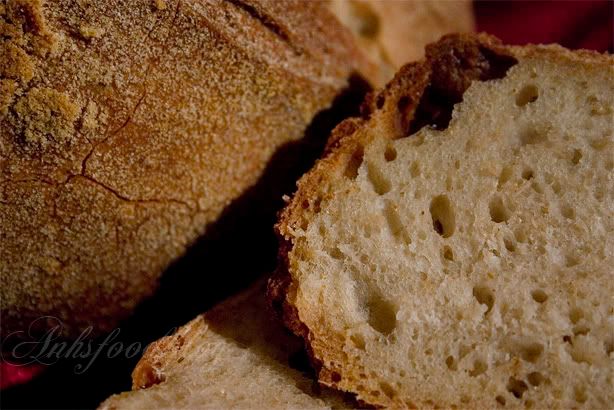 Now let me calm down and tell you about my sourdough affair. It all started with one brilliant book, The Handmade Loaf, by Dan Lepard. Dan is a fantastic and enthusiastic baker, and this book is outstanding. The book is the work of passion (for bread making of course). If you are passionate about bread making, may I suggest you not to miss it? A word of warning though. Most of the breads require you to build and keep a leaven. But with Dan's clear instructions and his own photographs of making leaven step-by-step, it is not an impossible job. Dan Lepard also runs a website and forum which he actively participates to answer questions from members. A lot of ideas and recipes are shared there, so do check it out if you love bread. (I am scheduling to make this soon :P)
Now, back to my bread which is essential Dan Lepard's The Mill Loaf. I changed the schedule a bit by putting the dough (after mixing) into the fridge overnight. Not sure if it really helps with the texture and the taste, but I have heard from others that this action is good for sourdough. This bread requires slow fermentation, which takes the whole day.
Dan's leaven recipe and other instructions can be found here (this is a firm leaven). And here is the recipe and my schedule for it… Note Dan's method of not kneading the dough extensively at the start like conventional recipe.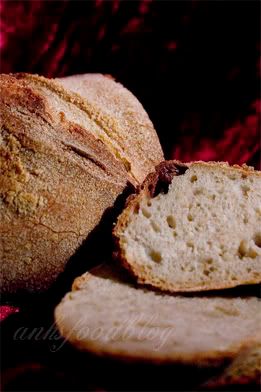 The Mill Loaf
Slightly adapted from Dan Lepard's recipe. I halved the recipe and make one loaf.
Ingredients
500g white leaven
550g water at 20C
600g white flour
300g wholemeal/whole-wheat flour
100g rye flour
2 ½ tsp fine sea salt
Method
The night before: mixing the leaven with water. Add flour and salt. Mix together. Leave for 10-15 mins. Knead for 10-15 sec. Shape into a bowl, cover and leave in the fridge overnight.
The next day
Take the dough out, leave on kitchen bench for 30 mins.
Knead the dough for 10-15 sec on a lightly oil surface. Cover & leave for 10 mins.

Knead the dough for 10-15 sec on a lightly oil surface. Cover & leave for 30 mins.

Knead the dough for 10-15 sec on a lightly oil surface. Cover & leave for 60 mins.

Knead the dough for 10-15 sec on a lightly oil surface. Cover & leave for 60 mins.
That's all for the kneading! Now, divide the dough into two and shape into two balls. Cover and let the dough relax for 10 mins. Then, shape the dough into a baton (click link for a very informative post on shaping). Place the dough seam-side-up on a floured cloth. Fold and pull the cloth up the sides of the load. Cover with a cloth and leave at room temperature (20C) until almost doubled in height – about 4 hours. Mine took about 6 hours, but it was a very cold day.
Preheat oven to 220C/425F. Put the baking stone in at least 30 mins before baking. Dust it with semolina. Upturn the loaf and cut two slash across it. Spray the top of the loaf with water. Carefully transfer it onto the baking stone. Bake for 50-70 mins. Cool before slicing.