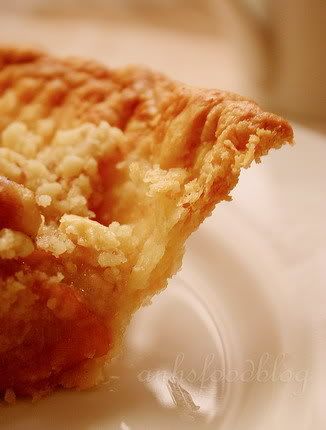 Rose Levy Beranbaum said it took her 50 tries to get this pie crust right. And thanks to her very detailed descriptions, I managed to make a really lovely flaky pie crust. Sure it took me extra time and efforts to make, but the end result was excellent. I have no regret!
I have used this cream cheese pie crust to make an aromatic plum crumble pie (recipe comes up later). As for the crust recipe, it is available online here with American measurements. I have included here the metric measurement as a reference together with my experiences in handling the crust.
Rose´s Flaky Cream Cheese Pie Crust
Recipe from The Pie and Pastry Bible
Ingredients (for 10-inch pie shell)
113gr cold unsalted butter, cut into small cubes
184g all-purpose flour
1/8 tsp salt
1/8 tsp baking powder
85g cold cream cheese
1½ tbsp ice water
1½ tsp cider vinegar
Direction (I used food-processor method)
Wrap butter in a freezer bag. Place flour, salt & baking powder in another freezer bag. Put both bags in the freezer for at least 30 mins to chill. (I chilled them overnight)

Place the flour mixture in a food processor fitted with a metal blade. Pulse for a few seconds to combine.

Cut the cream cheese into 3 or 4 pieces and add it to the flour. Process for about 20 seconds or until the mixture resembles coarse meal.

Add the frozen butter cubes and pulse until none of the butter is larger than the size of a pea. Add the water and vinegar. Pulse until most of the butter is reduced to the size of small peas. The mixture will be in particles and will not hold together – it is similar to breadcrumbs as this stage. Spoon it into the plastic bag.

Holding both ends of the bag opening with your fingers, knead the mixture by alternately pressing it, from the outside of the bag with the knuckles and heels of your hands until the mixture holds together in one piece and feels slightly stretchy when pulled. It took me about 3-5 mins to do this.
6. Wrap the dough with the plastic wrap, flatten it into a disc and refrigerate for at least 45 minutes, preferably overnight. (I refrigerated it for 3 hours).
After chilling, you can proceed to blind-baking stage before adding the filling as per specific recipe.
I actually doubled the crust recipe. Half of it was used to make a plum crumble pie. The other half was frozen and still sits in my freezer at the moment. I will use it sooner or later when my mood for pie comes up again!