>> Sunday, April 29, 2007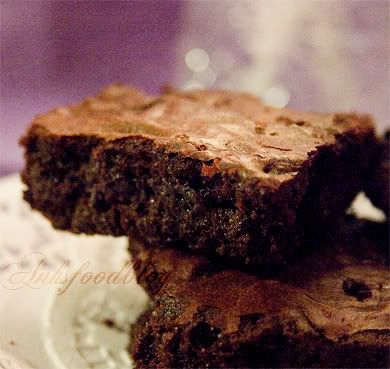 I admit brownie isn't my thing. I would rather go for dark chocolate than brownie if I need a rush of chocolate in my system. Actually the thought of making brownie never occurred to me until Myriam announced a lovely event called browniebabe of the month. I thought this would be a perfect chance to indulge in some extra chocolate so my first brownie was "born".
Although I have never made brownie before, I know good brownie must start with the best possible ingredients. I love the local brand Koko Black so I continue to use their cocoa powder and 60% dark chocolate in baking. If you have a chance to visit Melbourne, do check out Koko Black's hot chocolate. It is really lovely.
Now, time to choose a good recipe. It is a hard job since there are many brownie recipes available. I, however, decided to stick to the "on-the-fence brownie" recipe from Baker's Companion. This recipe promises a brownie that is "fudgy" but still rises nicely as "cakey" brownie.
My brownie turns out well but it is not as fudgy as the illustrated photo. I guess I can't really sit on the fence. I like cakey brownie and it automatically transfers to the end product since I baked it a bit longer than suggested. But I get what I want – a brownie that is packed with real chocolate. One thing I am really happy with is the nice top crust on the brownie. The trick is to heat and dissolve melted butter with sugar twice. Don't you love little tips like this in recipes? I do since it really helps to improve my baking experiences .

This brownie is packed with my favourite chocolate and I love it. Next time I may try to add some nuts to see how it goes.
On-the-Fence Brownies
Recipe from the Baker's Companion
Yield: 24 x 2-inch brownies
Ingredients
1 cup (8 oz) unsalted butter
2 cup sugar
1 ¼ cup cocoa powder*
1 tsp salt
1 tsp baking powder
1 tbp vanilla extract
4 large eggs
1 ½ cup plain flour*
1 cup chocolate pieces (I used 60% solid variety)
Method
Preheat oven to 350F. Lightly grease a 9x13 inch pan.
Melt butter over medium heat, take out and stir in sugar. Return the mixture to the heat briefly just until it is hot.
Stir in cocoa, salt, baking powder and cocoa.
Whisk in eggs, stirring until smooth. Add flour & chocolate pieces and stir until smooth. Spoon into prepared pan.
Bake for 28-30 mins for a super-moist brownie and longer for a cakey brownie.
(*) I used Koko Black (an Australian brand) cocoa powder. You can use any Dutch-process cocoa.
(*) This recipe is from King Athur's
publication
so they recommend King Athur unbleached all-purpose flour, which is unavailable in Australia. I used Australian White Whing's plain flour and it works fine.