First of all, I hope you all have had a wonderful Easter break. And thanks to your concerns, I have fully recovered from the cold.
Without any further delay, I am proudly presenting you the recap of Weekend Herb Blogging #79. With 39 entries from all over the world, we are really celebrating the common love for herbs and food!

Chicken Salad with Apple and Chives
Katerina of Daily Unadventures in Cooking
Our first entry is a late addition from last week round up. We don´t want you to miss out on Katerina´s delicious salad, so it re-appears in this week recap. Using her home-grown chives, Katerina whipped up a simple yet flavoursome salad. Do visit her post to read the interesting discussion on how to make chive flavoured oil dressing.

Fenugreek Leaves and Green Peas in creamy sauce
Sushma of Sunmkiran´s Recipe Source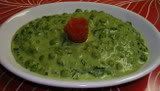 Our second entry is beautiful green dish. The fresh fenugreek leaves and peas were cooked to perfection in a spiced creamy sauce. I haven´t seen fresh fenugreek leaves around, but if I have a chance to get them, this dish is definitely a must-try.

Scott of Real Epicurean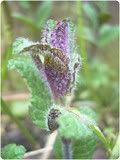 Can you imagine Scott has grown his mint for 10 years now and it is growing well? With all the mint he has in his herb garden, Scott is collecting ideas for using mint. The list has gone quite long and very interesting. Do you have any more ideas to share?
Chris of Mele Cotte, Atlanta USA
Using the fennel bought from farmers´ market, Chris was able to cook up not one but two dishes. The first one was fennel slaw which had an amazing refreshing flavor. The second one, braised fennel, was truly a dish of comfort just by the sound of it.
Sharmi of Neivedyam, USA
It was a cold day in Melbourne when I received Sharmi´s entry. Her post really warmed me up with Herbal Chai, which contains spices like cardamom, ginger, fennel seeds and Tulsi (Holy Basil). Sharmi´s descriptions about the usage and medical properties of each ingredient are also very informative; you really don´t want to miss out.
Joanna of Joanna´s Food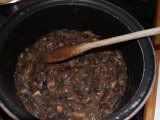 I am a big fan of anything mushroom so Joanna´s entry is delightful to read. According to her, cooking mushrooms slowly brings out the rich earthy flavor which you can use for pasta, casserole or even on toast. With this method, even the standard supermarket mushrooms will taste delicious!
Asparagus with Simple Hollandaise Sauce
Cate of Sweetnicks
Spring is in the air in northern hemisphere and Cate, like a lot of my fellow bloggers, is enjoying the abundant season of asparagus. Asparagus is such a lovely vegetable and there are a lot of things you can do with them. Do come over to Sweetnicks to read Cate´s experiences on matching asparagus with hollandaise sauce and some other valuable suggestions by her readers.
Sheela of Delectable Victuals
Using the rhubarb from her garden, Sheela made some incredible scones which paired up beautifully with clotted cream. From her post, you also learn a lot more about rhubarb, the special vegetable.
White Bean Salad with Tuna and Parsley
Kalyn of Kalyn´s Kitchen
Our 9th post comes from Kalyn, the founder of WHB. I once told Kalyn that all her salad recipes are freshly delicious and I really love them. And she did it again, coming up with a flavorful salad using the classic combination of tuna, parsley, olive oil and lemon. Adding white bean and you will have a complete healthy meal!
Asparagus Pizza with Rosemary and Goat Cheese
Shawnda of Confession of a Foodie Bride
WHB can really change the way a lot of us see herbs. We love and appreciate them more like before. Shawnda is no exception. Inspired by WHB, she planted more herbs in her garden. And from the lovely home-grown rosemary, Shawnda made a pizza that no one would want to miss. A perfect spring dishes when you have asparagus around.
A warm buckwheat and mushroom salad
Pille of Nami-nami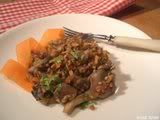 I was thrilled to read Pille´s post about buckwheat groats, an ingredient that I have been hunting for a while now. With this special ingredient, Pille came up with a hearty main dish that looks and sounds delicious. You can also find a lot of useful information about buckwheat groats in her post.
Susan of The Well-Seasoned Cook
This beautiful green looking "yet devilishly hot" salsa comes from Susan. Thanks to her detailed instructions on how to deal with the two "sneaky" ingredients, tomatillo and Anaheim pepper, the rest of us can whip up something as pretty and yummy as that some day.
Nyonya Chap Chai (Brasied or Stewed Mixed Vegetables)
Tigerfish of teczcape-an escape to Food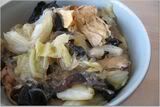 Tigerfish brings a hearty Nyonya vegetable stew to this week WHB. Using treasure Chinese ingredients like lily buds, shitake mushrooms and black fungus, this stew is surely tasty and exceptionally healthy. Her instructions also so specific that even a novice like me feel confident cooking the dish!
Easy New-and-Improved Chicken Broth with star anise
Hedgehog of Diary of a Novice Cook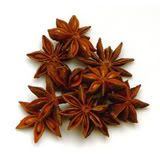 I´m so happy to discover a new Vietnamese food blog through WHB! Like any Vietnamese, Hedgehog is passionate about Pho Broth (Vietnamese Noodle Soup). This week she gives us a quick and easy version of Chicken Broth that can be used for the chicken version of Pho. Spiced with star anise, an essential ingredient for Pho broth, you cannot go wrong!
Myriam of Once upon a Tart
I first visited Myriam´s blog through last week WHB and was stunned by her lovely recipes and photos. Featuring dill as the main herb, Myriam made a tasty sauce that would be a perfect match for all your fish dishes (and perhaps other seafood dishes, too).
Smoked salmon and mango in nut-n-cheese cup
Gattina of Kitchen Unplugged
My dear friend Gattina brings us an incredible creation that is a feast for the eyes. In a green & white nut-n-cheese cup, she matched up the pink smoke salmon with the refreshing pale yellow mango from Peru. Wanna make it for your next party? Then go over to Gattina´s blog to see how she did it!
Smita of Smita Serves You Right
This entry is comfortable soup for a cold night. Blending parsnip & carrot with popular Indian spices, the end result was something really satisfying. In Smitta´s words – "The soup is a delightful blend of flavors – subtle sweetness from the hearty parsnips balanced with the well-behaved coriander/cumin spice combination."
Pork-and-Ricotta Meatballs in Tomato Sauce
Sher of What did you eat?
If you like meatballs, you really need to try Sher´s recipe out. And even if you don´t like meatballs, perhaps her delicious meatballs can change your preference. According to Sher, fennel seeds lend a mysterious anise-like taste that adds another depth of flavour to this all-time favourite dish. This recipe is a keeper!
Asha of Aroma
Asha enlightens me this week with her entry about red radish, something I haven´t used much. And best of all, the radishes come straight from her garden to a light soup that is surely delightful to eat. The recipe also has besan, one of my favourite ingredients, so I will try it out soon.
Haalo of Cook (almost) Anything At Least Once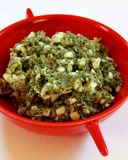 I can´t help drooling whenever I visit Haalo´s stunning blog. This week she used chervil to make Sauce Gribiche, which was a perfect partner to the delicious crumbled King George Whiting. The recipe is from Sydney chef Matt Moran. And after seeing Haalo´s fabulous photo, I just want to jump into the kitchen and start using his cookbook straight away!
Katie of Thyme for Cooking
Katie is doing justice for the much misunderstood potatoes in her entry. Potatoes are good for us despite the much common belief that they are wasted calories. For useful facts about potatoes, come over and read Katie´s passionate post. And when you are there, check out her two recipes that use the tasty new potatoes she found in the market.
Yich of SIM Cooks
Yet another fascinating post about a lovely Chinese medical herb, wolfberries. Wolfberries have a lot of medical benefits and Yinch´s post tells us a lot about it. Pairing them with other herbs, Ying cooked a nutritious Chinese Herbal Chicken Soup. This soup is very popular among the Chinese, and it is believed to improve your health if eaten on a regular basis.
Pookah of What´s cooking in Carolina?
In the mood for Moroccan dishes, Pookah has managed to cook up some really lovely dishes at home. And for a cold night recently, the warming lentil and lab stew that used a Morrocan spice mix, Harissa, was so comfortable. Harissa is quite easy to make (I can confirm that), and Pookah gives us her very own version which she describes as "very, very good".
Lemon and Hazelnut Green Beans
Ashley from Big Cook, Tiny Kitchen
This green bean dish is not only healthy but also appetizing. The fragrance of lemon is refreshing, and those toasted hazelnuts give a crunchy bite! A delicious side dish at dinner table.
Prawn Stuffed Portobello Mushrooms With Crisp Comte Cheese Crisps
Christine of Christine Cooks
Christine´s entry for this week WHB is truly mouth-watering! The mushrooms are stuffed with wild-caught prawns (wow wow!), glazed basil and some perfect-looking cheese crisps. I can´t help drooling and surely will try this myself.
Anna of Morsels & Musings
Anna brings us a revitalizing ceviche that makes use of the incredible fresh seafood that Sydney is famous for. Her dish, inspired from the Cuban recipe for ceviche mixto, combines some of the most fabulous seafood ingredients with the heat of chilli and the lovely citrus flavour of lime, orange and grapefruit. Adding coriander (cilantro), you will have a combo to remember!
Angie of My Kitchen, My Laboratory
My good pal, Angie, has a very interesting discussion about some "offensive food" (Think blue cheese, natto etc.) in her post. It is so true that "one man´s meat is another´s poison" and "taste is a very personal thing", isn´t it? Angie, then, uses durian as the filling for her very beautiful looking cream puffs. Durian is a hard-to-appreciate fruit (read Angie´s post and you will know why). But if you can get over certain barrier, it is perhaps one of the best fruits on Earth.
Charchari – a Bengali Mixed Vegetable Dish
Sandeepa of Bong Mom's CookBook
Using lovely Indian herbs, spices and five vegetables, this vegetable medley is guaranteed to be delicious! I always love Indian vegetarian dish, and this one is no exception. Sandeepa´s informative description about the background of Charchari is delightful to read, too.
Chocolate Cardamom Strawberries
Rinku of Cooking in Westchester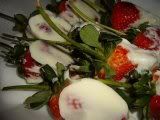 Our next entry is sweet and seductive. Having found those stunning stem strawberries, Rinku dip them in cardamom-spiced melted chocolate. I always think chocolate and strawberries are perfect partner. And using cardamom brings out the mysterious warming sense of chocolate. Perfect for any occasion!
Verbena & Pepper Mint Panna Cotta, with Apricot Sauce
Virginie of Absolute Green
Using agar agar as a replacement for gelatine, and soy milk for the normal milk, Virginie comes up with an elegant and vegetarian-friendly panna cotta. Flavoured with verbena leaves and pepper mint, this healthy panna cotta is also very aromatic.
Tuna with Gotu-Kola and Coconut "Pesto" Noodles
Ros from Living to Eat!
Have you heard of gotu-kola leaves (also called asiatic pennywort)? I haven´t so this entry from Ros is enlightening. You should read her port thoroughly to learn about the Gotu-Kola and also how she comes up with the flavoursome noodle dish. Everything looks so delicious and Rosa confirmed that "There was the classic gotu-kola, coconut, lime combination balanced by the ginger and chilli in the tuna." Superb!
Salted Roasted Rosemary Potatoes
Deborah of Play with Food
Deborah has a huge pot of rosemary in her garden and from that she makes the incredible salted roasted rosemary potatoes. My mom used to salt-roast chicken and it was delicious so I´m sure Deborah´s dish will taste beautiful, too.
Spinach Salad With Red Onions And Tahini Vinaigrette
Emily of Superspark
Emily´s entry for this week is a simple salad that tastes really delicious thanks to the unusual Tahini Vinaigrette. I really like her descriptions about the salad: "Comprised of nothing more than fresh spinach, lightly pan-fried red onions, and an unusual, creamy tahini vinaigrette dressing, this salad is easy to make but tastes much more complex. The onions become soft and sweet and the dressing is rich and nutty." Delicious, isn´t it?
Y of Lemonpi
It is autumn in Australia, and Y from Sydney is enjoying a varieties of pears at the moment. To celebrate the season, she baked a creamy mini cake with pear as the essential ingredient. Scented with a hint of cinnamon, the cake is perfect for the cooler seasons.
Burcu of Almost Turkish
Burcu never fails to impress me with her traditional Turkish recipes. And this rice dish sounds so delicious and comfortable with the use of fresh herbs and zucchini. Burcu said it is good for hot summer days, but I think it can be enjoyed at anytime of the year.
Patricia of Technicolor Kitchen
The next post brings us all the way to Brazil where Patricia made her debut entry for WHB with a gorgeous Heart of Palm Quiche. I have seen palm trees back in Vietnam but haven´t tasted heart of palm before. I am very curious since Patricia said she really loved it!
Valentina of Trembom
A beautiful recipe by another Brazilian, Valentina. Using the last mama squash of this season and applying a Gordon Ramsey´s recipe, the end result is a perfect risotto with a lovely colour. With mascarpone as one of the ingredients, it will be superbly creamy, too. This is what I call comfort food.
Oven-baked Butternut Squash and Rosemary Risotto
Sophie of Mostly Eating
Like Valentina, Sophie used the combination of squash and risotto for this week WHB but her dish is very different. It is really fascinating to see how we can use the same basic ingredients to obtain diverse taste and texture. In Sophia´s recipe, risotto is baked with a few secret ingredients to become "a rustic, weeknight supper kind of a dish". Her discussion about keeping the wholegrain goodness is also helpful.

Anh of Food Lover's Journey

My entry for this week WHB is a plum crumble pie. Stoned fruit season is coming to an end in Australia, and I am eating them as much as possible. And I think this pie is a perfect way to celebrate my love for stoned fruits.
***
It has been a pleasure to host this week WHB. All entries are really amazing and I have learnt a lot! Thanks everyone for your support.
For next week, WHB continues to stay in Melbourne when it is hosted by the gorgeous Haalo of Cook (almost) Anything At Least Once. Be sure to come over for another great recap then.