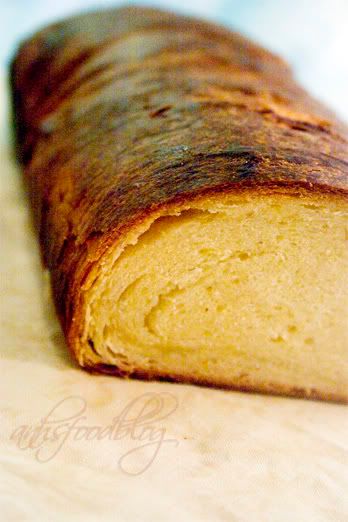 The last few days have been quite hectic for me. I was on an emotional ride about certain issues and at times did not know what to do. But life goes on and I have regained the calmness and confidence to face the challenged ahead. And of course, there are things to look forward to. Next week I will go and see The Phantom of the Opera in theatre. This is a dream come true since I have always loved the musical by Andrew Lloyd Webber. It is also a very sweet early birthday present from my love, Mr. Bee…
See, there are always sweet things in life. And sometimes we can make it ourselves by jumping into the kitchen and bake. For me, the reward for a busy week is very rich sweet dough, followed by a very wicked apple and custard loaf. You know, I do have great liking for buttery pastries and tarts. They always make me happy and satisfied. So making one in a while is quite natural.
But this is not like any normal sweet dough. What you see in this post is the left over from the dough I used for the apple and custard loaf, which will be up soon. This particular dough is the tastiest I have ever made, and I do mean it. With a lot of cream and butter, it´s definitely buttery and creamy. But the secret of the dough is the use of a natural leaven (wild yeast) and a tiny amount of commercial yeast. If you have made/tasted sourdough, you should know that wild yeast makes great breads. I can really go wild for them! The commercial yeast, on the other hand, quickens things up and produces tender crumbs. Together with flour, eggs and sugar, everything makes incredible sweet yeasted butter dough.
I will post the marvelous apple and custard loaf soon, but the leftover dough makes the most beautiful sweet bread! The crumb is soft and sort of melt in your mouth. And if it is healthier, I won´t mind having it everyday for breakfast.
Right, rich and creamy things make me happy. How about you? What food can lift up your mood on a rainy day?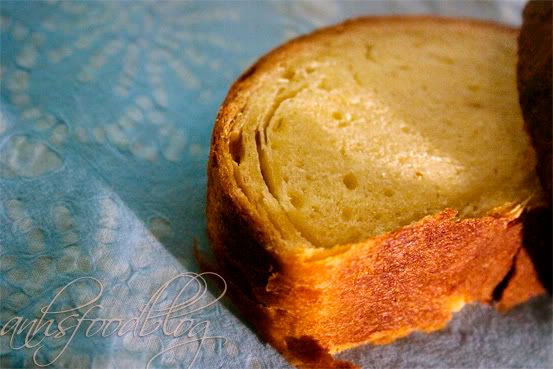 Dan Lepard´s Sweet Butter Dough
From this book
Ingredients
2½ tsp fresh yeast (halve the amount if using dry yeast)
1 egg
2 egg yolk
125g castor sugar
500g plain flour
200g white leaven (follow link for recipe)
125g single cream
1¼ tsp sea salt
175g unsalted butter, cut into pieces and allow to soften
Method
Combine yeast with egg and yolks and some sugar. Mix in all the other ingredients except for butter and knead thoroughly. Cover and leave for 10 mins.
Put butter pieces on top of the dough and work them into the dough. Knead on a lightly-oiled surface for 5 mins or until the butter is incorporated and the dough is smooth. Knead into a ball and place in a large container. Cover and let rest in the fridge for at least 18 hours.
Making into sweet bread
This is what I did for the left over dough (about 1/3-1/2 the amount above) from my other loaf.

Roll the left over dough into a loaf tin, and let it rise until doubled in size. After that, bake in pre-heated 200C oven until done.